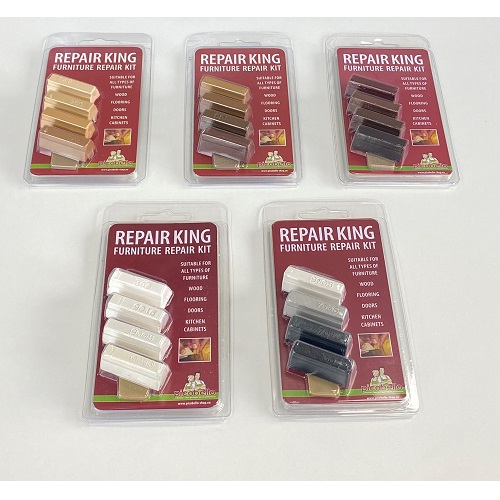 Repair King Set
Welcome to our Picobello DIY product range that has been specifically developed for the UK Homeowner. The Repair King pack is suitable to repair minor cosmetic marks such as small scratches and chips to all types of artificial and natural wood furniture. Each pack comes with four different colours of softwax and an applicator tool. Multiple shades can be used to recreate the different tones found in all wood shades. The pack is Ideal for repairing items such as furniture or kitchen cabinets. Please have a look at the following demonstration to see how quick and effective the repair is to carry out. The Repair King is available is five different colour assortments - light wood, medium, dark wood, grey and white.
Delivery
Delivery costs are additional to the final price of the respective goods invoiced.
UK Mainland with order value of less than £175.00 will be subject to a £5.50 carriage charge. Orders over £175 will be free shipping.
Northern Ireland, Scottish Highlands and Islands may incur additional carriage charges depending on post code.

Republic of Ireland & France - For shipping to the Republic of Ireland or France, please contact the office on either 02477 087991 or websales@konig-uk.co.uk
Please note prices quoted are inclusive of VAT.