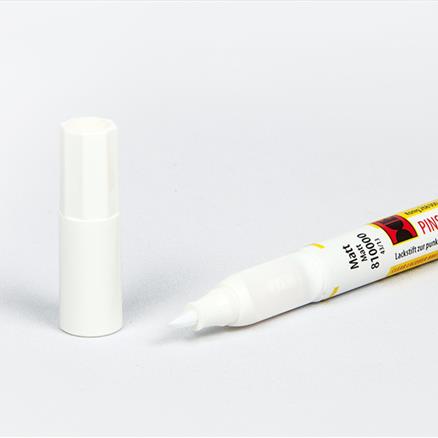 Brush Pens
The clear lacquer brush pen is used for retouching edges onfurniture (veneer, solid wood and high gloss) where the clear lacquer coatinghas been scuffed, the pen is ideal for replacing the clear lacquer coatingquickly and effectively. It can also be used on top of a hardwax repair toadjust sheen level of the repair if required. Shake the pen well prior to firstuse, dab onto a cloth or tissue to remove excess and lightly apply to thedamaged surface and allow to dry for approximately 10 minutes. Apply a furthercoat if required.
Delivery
Delivery costs are additional to the final price of the respective goods invoiced.
UK Mainland with order value of less than £175.00 will be subject to a £5.50 carriage charge. Orders over £175 will be free shipping.
Northern Ireland, Scottish Highlands and Islands may incur additional carriage charges depending on post code.

Republic of Ireland & France - For shipping to the Republic of Ireland or France, please contact the office on either 02477 087991 or websales@konig-uk.co.uk
Please note prices quoted are inclusive of VAT.